Claudia Gallego (Universidad Nacional de Colombia)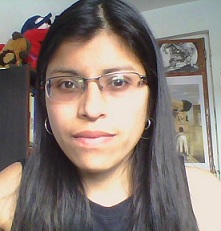 Claudia Gallego is a PhD candidate in mathematical sciences; active mem- ber of the research group "Álgebra constructiva - SAC2". Her research interests are computational algebra, theory of noncommutative rings and modules, homological algebra, algebraic topology and algebraic geometry (the latter two not active).
---
In this talk we present the Buchberger's algorithm for computing Gröbner bases of modules defined on a new class of noncommutative rings: the skew $PBW$ extensions, introduced by us in [4], as a generalization of the $PBW$ extensions established by Bell and Goodearl in [1]. Further, we show some elementary applications of this, such as: membership problem, syzygy module, presentation of a module, kernel and image of a homomorphism.
[1] Bell, A. and Goodearl, K., Uniform rank over differential operator rings and Poincaré-Birkhoff-Witt extensons, Pacific Journal of Mathematics, 131(1), 1988, 13-37.
[2] Bueso, J., Gómez-Torrecillas, J. and Verschoren, A., Algorithmic Methods in noncommutative Algebra: Applications to Quantum Groups, Kluwer, 2003.
[3] Chyzak, F., Quadrat, A. and Robertz, D., Effective algorithms for parametrizing linear control systems over Ore algebras, Appl. Algebra Engrg. Comm. Comput., 16, 2005, 319-376.
[4] Gallego, C. and Lezama, O., Gröbner bases for ideals of skew $PBW$ extensions, Communications in Algebra, 39, 2011, 50-75.
[5] Gallego, C. and Lezama, O., Matrix approach to noncommutative stably free modules and Hermite rings, Algebra and Discrete Mathematics 18 (1), 2014, 110-139.
[6] Gallego, C., Gröbner basis for bijective skew $PBW$ extensions, Preprint.
[7] Levandovskyy, V., Non-commutatve Computer Algebra for Polynomial Algebras: Gröbner Bases, Applications and Implementation, Doctoral Thesis, Universität Kaiserslautern, 2005.
[8] Lezama, O., Matrix and Gröbner Methods in Homological Algebra, Lambert Academic Publishing, 2011.
[9] Lezama, O. and Reyes, M.A., Some homological properties of skew PBW extensions, Communications in Algebra, 42, 2014, 1200-1230